Bioinformatics.ca Careers
Our jobs board actively posts new positions across Canada for early career and established professionals in bioinformatics.
Browse Job Postings
Thanks for your feedback
(B/CB) Strategic Framework
The final strategic framework for bioinformatics and computational biology for Canada has been posted.
Read the Plan
Welcome to the Canadian
Bioinformatics Community
Alumni, experts and researchers sharing links to resources and materials to support bioinformatics activities.
About Us
2023 Workshops
We are offering a mix of onsite and online workshops for the 2023 year. Registration is open!
See All Upcoming Workshops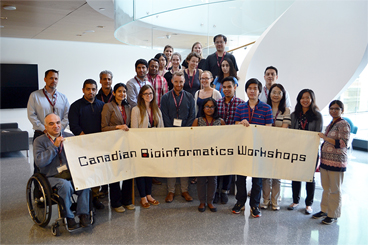 About our Workshops
Canadian Bioinformatics Workshops recognizes the need to gain advanced training in bioinformatics and advance research. CBW promotes open access. Past workshop content is available under a Creative Commons License.
Recent Job Posts
Toronto, Ontario, Canada
Ottawa, Ontario, Canada
Boston, Massachusetts, United States
Montreal, Quebec, Canada
Keep up-to-date with Bioinformatics.ca
Receive updates and announcements about upcoming workshops and jobs.