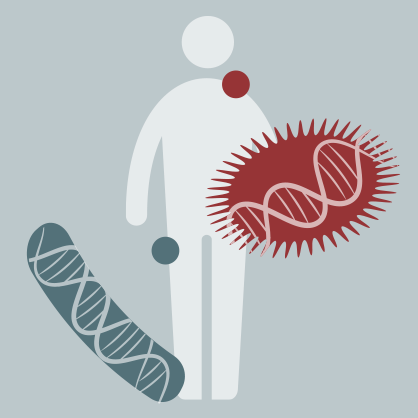 Course Objectives
Metagenomics, the sequencing of DNA directly from a sample without first culturing and isolating the organisms, has become the principal tool of "meta-omic" analysis. It can be used to explore the diversity, function, and ecology of microbial communities. The CBW has developed a 3-day course providing an introduction to metagenomic data analysis followed by hands-on practical tutorials demonstrating the use of metagenome analysis tools. The tutorials are designed as self-contained units that include example data and detailed instructions for installation of all required bioinformatics tools.
Participants will gain practical experience and skills to be able to:
Design appropriate microbiome-focused experiments
Understand the advantages and limitations of metagenomic data analysis
Devise an appropriate bioinformatics workflow for processing and analyzing metagenomic sequence data (marker-gene, shotgun metagenomic, and metatranscriptomic data)
Apply appropriate statistics to undertake rigorous data analysis
Visualize datasets to gain intuitive insights into the composition and/or activity of their data set
Target Audience
Graduates, postgraduates, staff bioinformaticians and PIs working with or about to embark on analysis of marker genes, metagenomic, and metatranscriptomic data from microbiome-focused experiments.
Course Outline
Module 1: Introduction to Metagenomics
A brief history of microbiome studies
Review of relevant terms (microbial communities, microbiome, species, metagenome, marker genes, metatranscriptomics)
Technologies used in meta'omics
Module 2: Taxonomic Analysis + Stats Module
What is 16S? Why is it useful? What are its limitations? Methods
16S data processing
Clustering and Classification – OTUs vs. ASVs ; Taxonomy
Diversity (and co-occurrence?)
Statistics and machine learning related to microbiome studies
Lab Practical
Module 3: Bridging Taxonomy and Function
Brief intro on gene annotations and different granularity
Inferring function from taxa
Different methods for functional prediction
Focus on PICRUSt2
Limitations of all prediction methods
Lab Practical
Module 4: Metagenomics Functional
Non-assembly (this section) versus assembly based approache
Filtering out host reads (especially in low microbial load samples)
Metagenomics taxa using Kraken & Braken
Metagenomics function using HUMAnN or DIY (mmseqs)
Correction for read length, genome size, etc. (microbecensus)
Stratified functional tables (e.g. linking functions from the taxa they originate from)
Driver versus passenger functional selections
Special functions (e.g. AMR genes)
Lab Practical
Module 5: Metagenome Assembly, Binning, and Extracting Genomes from Metagenomes
Overview of binning theory/approaches, advantages/disadvantages
Insights from prior studies
Overview of suggested workflow
Lab Practical
Module 6: Metatranscriptomics
What is metatranscriptomics (Metatranscriptomics v RNASeq)
Why metatranscriptomics
Sample collection and library generation
Processing pipelines, filtering, functional and taxonomic annotation
Read normalization and differential gene expression
Pathway enrichment
Visualization
Lab Practical
Module 7: Sampling and Sample Processing considerations
Experimental design and sample preparation considerations
Module 8: Biomarkers Keynote Lecture
Benefits and applications of biomarkers
Types of markers – taxonomic, functional
Examples of existing biomarkers
Methods for identifying new markers
Normalization, copy number variation, and other considerations
Finding differential features: categorical, correlative
Ranking features
Network-based analysis
Towards a genetic test: Designing PCR/qPCR primers/tests
Example of biomarker ID success
General considerations, cautionary notes
Workshop Details:
Duration: 3 days
Start: Sep 01, 2021
End: Sep 03, 2021
Location:
Course Mode: Online
Status: Registration Closed
Workshop Ended
Offers:
CAD $389 for applications received between March 18, 2021 to June 30, 2021
CAD $524 for applications received between July 1, 2021 to August 23, 2021
Limited to: 40 participants
Lead Instructors:
Open Access Content:
Canadian Bioinformatics Workshops promotes open access. Past workshop content is available under a Creative Commons License.